"The main job of a leader is to create other leaders."
– Lunke Ole Minchilei, Maasai Chief and Elder, Maasai Mara, Kenya.
Corporate Vision has recently announced the winners of a variety of yearly awards for 2022. Go Nomading Pte Ltd has graciously been awarded the 'Most Innovative Team Leadership Coaching Provider – Singapore'. We are excited by this award and look forward to engaging with Organisations around our latest project 'The Pause Retreat', creating space for building mindful communities of excellence.

Go Nomading Pte Ltd is happy to humbly share that Kevin Cottam, CEO of Go Nomading Pte Ltd, Leadership Coach, Professional Speaker and Author has been recognized as one of the Top Leadership Coaches by Coach Foundation.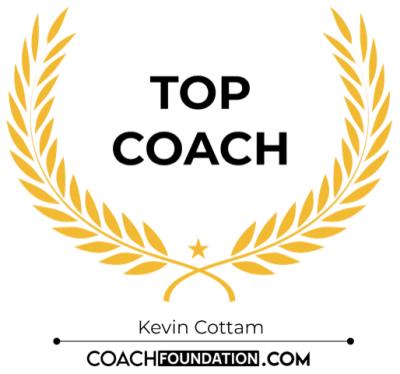 Leadership for the Next Evolution:
Executive and Team Leadership Coaching
Are you an empowering, empathetic, impactful, courageous leader?
Imagine sitting on the top of a mountain
and looking at the expansiveness of the territory in front of you. You are observing your world, your organisation, your life. This can, at times, be hard to do. Climbing a mountain to gain the best vantage point requires the right tools and the right path. Just as with mountain climbing, you need to approach coaching and leadership with the right behaviours and mindset. Unfortunately, leaders and/or their teams often don't step back far enough or go wide enough or reflect enough to see the big picture or territory. To do this, you have to tap into your Nomadic Mindset.
"One of the most important actions, things, a leader can do, is to lead by example. If you want everyone else to be passionate, committed, dedicated, and motivated, you go first!"
Our research with nomadic cultures and executives
has shown us today's leaders and managers need to access their Nomadic Mindset more than ever before in this VUCA (volatile, uncertain, complex, ambiguous) world where the only constant is change from inside out. Why? Because the behaviours and qualities needed to navigate and overcome in this new world live in The Nomadic Mindset.
Do you want to be an expansive, big-picture leader?
Experiencing executive coaching, for a leader or team,
is one of the greatest evolutionary journeys you can undertake to explore, expand, emerge, experience, and evolve your mindset and way of being. Executive leadership group or individual coaching is a personal experience that allows you to freely explore a vast new perspective or way of thinking. It can certainly be disruptive, but also a tremendously transformative and evolutionary journey. Coaching …
… Inspires you to be dynamic, curious, and Go First
… Invites you to Go Nomading and be agile and adaptive, to explore creative ideas
… Encourages you to be still and alert, to listen and observe
… Provokes you to be open and strategic and take risks
… Drives you towards positive behavioural change
… Allows you to tear down borders
… Enhances your impact
When you undergo executive leadership coaching,
"You are migrating. Where you were is not where you are. You are Evolving."
Coaching, an Evolutionary Journey
When we first meet our clients,
whether they be executives, directors, managers, or teams, they are generally struggling, stuck or blocked with a variety of personal and/or organisational challenges or change. They recognize a need for an outside perspective as—for leaders of all calibre in all roles—it can be quite lonely and isolated at the top, especially when working in a team. They often show up having a narrow, blocked, even confused and rigid perspective, and this can be due to their values, behaviours and beliefs associated with their dominant mindset.
How serious are you about stepping up to evolve and create a bigger impact?  If you are truly serious …
The goal is to gently help or guide you or your teams
through deep listening, observing, and asking questions, so you can explore and find—for yourself—a more expansive or wide perspective, thereby increasing greater awareness and creating positive behavioral change, which allows new solutions to emerge. This new awareness and change offers the opportunity to transform and evolve with a freer, lighter, more visionary perspective, enabling you to see a variety of once-elusive possibilities more profoundly. Leadership coaching is not for the faint hearted, however. You have to want to lead, achieve, and be the best version of yourself for the team's cohesion. For this, you need to have the right mindset.
"Think Vastly. Act Narrowly."
Are you now ready to evolve?
What does becoming more agile, adaptive, and expansive look like to you?
What kind of inclusive, diverse culture do you want to build?
How do you get over the loneliness of being a leader?
What are your or your team's priority values?
What needs to happen for your team to work more harmoniously and collaboratively?
How can you lead more effectively in this remote, hybrid working world?
What do you need to do to create and leave a compelling impact?
How can your relationships be more effective?
How can you become more courageous?
Leadership Coaching Benefits
✔ Develop visionary, expansive, and intuitive thinking and actions.
✔ Remove blockages and narrow thinking by realising your challenges for what they really are.
✔ Be more strategic, creative, and structured.
✔ Develop holistic empathetic qualities that create positive behavioural change.
✔ See your organisation, individuals, and clients as an interconnected whole and your greatest assets by tapping into the cultural collective wisdom.
✔ Live this African proverb: "To go fast, go alone. To go far, go together."
✔ Explore the Journey Map Model to Evolution.
✔ Understand that vulnerability is a strength that displays your authentic humanity.
✔ Discover you dominant mindset: Nomadic, Builder or Settler
Nomadic Mapping Journey Model to Evolution
D1. Direction: clarifying the desired destination you want to move towards
D2. Departure: gathering and uncovering information before you move forwards on the coaching journey
D3. Discovery: exploring multiple paths to help unlock, expand, and ultimately create an evolutionary and transformative shift
D4. Destination: arriving at your temporary desired goal or outcome with actions to move forward with
D5. Distillation: connecting the dots of the journey and summarizing the learning and growth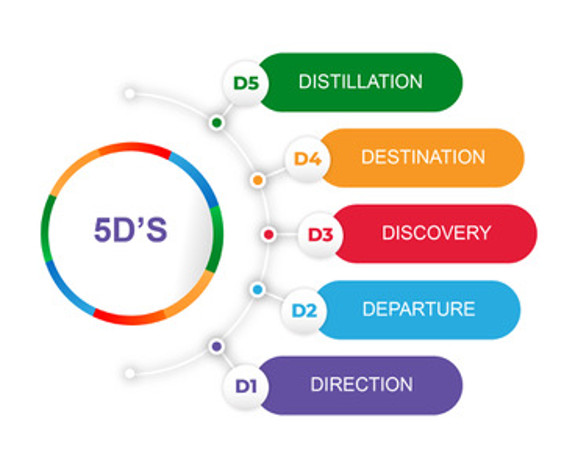 "In an industry often crowded with ex-business executives offering business-oriented advice, Kevin Cottam brings a fresh perspective to the challenges one faces when trying to carve [out] a new path in life. He has a wonderful, empowering way of getting you past yourself and the fear that often blocks you from realizing your full potential. I have enjoyed having him alongside me and have benefitted greatly from his guidance"
"Working with Kevin was a really marvellous experience. Kevin is not only a great coach, he is a guide who takes you on a journey and is always with you, observing, listening, reflecting. He helped me build my leadership skills and guided me on a journey much deeper into my inner driving forces and motivations. He coaches, guides and builds not just leaders, but characters. He greatly enriched our exchanges with metaphors reflecting his global nomadic mind-set and experience."
"Kevin helped me refocus on my core values and find in myself the resources to clarify and achieve my personal and professional objectives in the search for a new position. His interview coaching on preparation, structure, and narrative was unique and very new to me. It was a real pleasure working with him. [After my coaching], I was nominated Director of the European SME Agency (EASME)."
"I benefited from coaching with Kevin Cottam at a moment in which I was facing a turning point in my professional and leadership development. I enjoyed Kevin's out-of-the-box coaching, never giving solutions but [asking] the right questions so I could evolve in my thinking process. I enjoyed working with Kevin. He has a great sense of humour and a deep humanity that makes him a unique person and professional."